Preparing the next generation of successful intercultural leadership: Aschaffenburg University of Applied Sciences hosted Intensive Programme on "Managing and Leading in different cultures" as part of an Erasmus+ Strategic Partnership Project
This week Aschaffenburg University of Applied Sciences has hosted the Second Intensive Programme that aims at fostering leadership and management skills across cultures. Over fifty students and lecturers from 6 different partner universities from across Europe are engaging in learning and collaborating in an intercultural setting as part of the EU Strategic Partnership Project PROMINENCE "Promoting Mindful Encounters through competence and experience".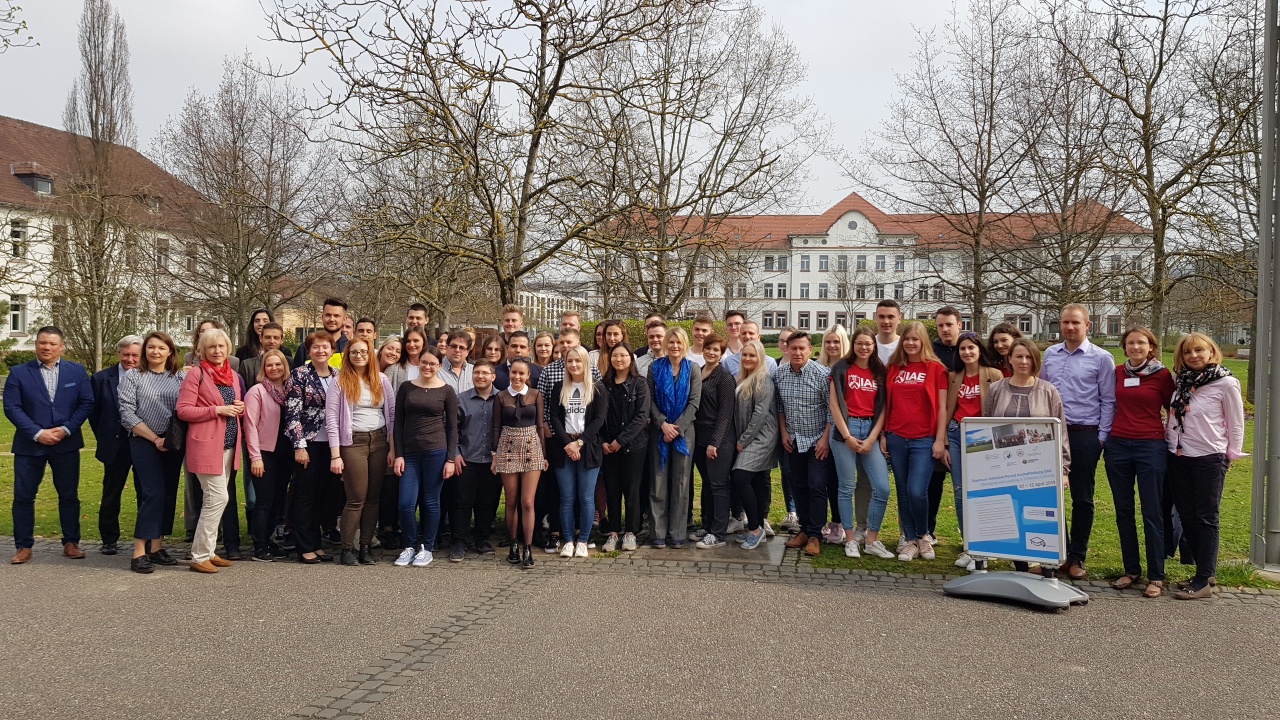 In a global and increasingly diverse world interculturally competent managers and leaders are the asset for companies that seek to successfully operate on international scale/across cultures. The seven universities participating in the project from across Europe have joined forces to collaborate on the development of interactive online/blended learning material to enhance intercultural competence and experience with the ambition to contribute to a further enhancement of the internationalization agenda in their participating universities.
Aschaffenburg University of Applied Sciences has been the host of the second of a total of three so called Intensive Programmes as part of a EU project within the Erasmus+ Programme (Strategic Partnership) entitled PROMINENCE (PROmoting MINndful ENCounters through intercultural Competence and Experience). This project is financially supported within the framework of the EU funding initiative Erasmus+ Strategic Partnerships. Over a period of three years university partners from Aschaffenburg (Germany), University of Economics of Bratislava (Slovakia), Debrecen (Hungary), Katowice (Poland), Savoie (France), Seinäjoki (Finland) and University of Economics of Varna (Bulgaria) will be collaborating and organise so called Intensive Programmes (IPs). Each of these short programmes will be delivered in English to more than 50 students and lecturers from all 7 participating universities. For each of these IPs, students per participating university receive a EU grant to co-finance their study period abroad.
"With our IP we wanted to provide a framework favourable for learning across cultures", says Alexandra Angress, Faculty of Business Administration and Law of Aschaffenburg University of Applied Sciences, who is coordinating the academic programme supported by the university's International Office. In international teams students work on case studies as consultants seeking to solve challenges relating to leadership and management in an intercultural context.
What companies operating on a global scale expect in terms of an intercultural mindset and the readiness to adapt and continue learning across different cultures was illustrated by Denis Schreek from Linde Material Handling in Aschaffenburg in his key note address. A survey conducted in the project consortium coordinated by Stephane Ganassalii, University of Savoie on a sample of almost 200 companies in the seven participating countries further confirmed the relevance of intercultural competence for managers in today's global word.
Troy Wiwczaroski, the project coordinator of the University of Debrecen summarises the ambition of this IP : "Can we cultivate an attitude of openness to differences of opinion in our students? It is our hope that we can this week provide each participant of the IP at least one spark which will catch fire and lead them to forge their own path to success". Students were also actively involved in testing content that had been developed on leadership theories and the role of non-verbal communication by University of Economics of Varna, Bulgaria and Seinäjokoki University of Applied Sciences, Finland, respectively.
Through this EU project all seven European university partners have signed up to further develop their respective internationalisation strategies and deepen their bonds through respective Erasmus+ cooperation arrangements on student and staff mobility in place within the EU funded flagship programme Erasmus+.
In 2020 the third and last IP of the project will take place followed by a final international conference in Seinäjoki, Finland where project results will be presented. More information can be accessed via the website of the EU Project PROMINENCE www.prominence.eu and the website of Aschaffenburg University of Applied Sciencese www.th-ab.de.
Contact PROMINENCE/Aschaffenburg Intensive Programme "Managing and Leading in different cultures":
Prof. Dr. Alexandra Angress; email: alexandra.angress@th-ab.de